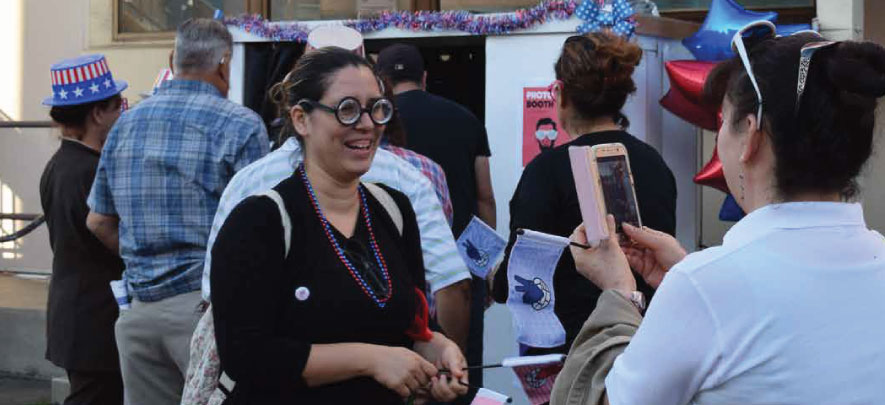 15 Oct

PMTV Wins !

PLACE-MAKE THE VOTE PROPOSAL WINS 2016 KNIGHT CITIES CHALLENGE

CITY FABRICK COLLABORATES WITH LONG BEACH CITY CLERK AND LONG BEACH RISING! TO INCREASE VOTER TURNOUT DURING THE PRESIDENTIAL ELECTIONS

Today, City Fabrick and community partners announced that they were named a winner of the Knight Foundation's 2016 Knight Cities Challenge. The winning program, Place-make the Vote develops kits for creating temporary social spaces around polling stations in historically low voter turnout communities to expand civic engagement, encourage voting and provide venues for celebrating democracy. City Fabrick will be partnering with the Long Beach City Clerk's office and Long Beach Rising! a coalition of community partners dedicated to develop these multiple pop-up places during the June Primary and November General Elections.

"This is an exciting opportunity to collaborate with new partners all on a common cause to expand civic engagement in under-represented communities," said Brian Ulaszewski, Executive Director and Principal of City Fabrick, a nonprofit design studio in Long Beach dedicated to improving communities through public interest design, planning, policy development and civic engagement."

Transforming polling places into social spaces in order to increase voter engagement has yet to be done systematically in a way that can be studied for potential replication. Nonpartisan organizations like Rock the Vote, Voto Latino and Turbo Vote use varying combinations of media, technology and direct engagement to try to increase voter turnout. Knight Cities is supporting a Philadelphia effort to make voting in local elections more enticing by creating new signage and commissioning art at polling places. Place-make the Vote will use place and people to attract voters while promoting expanded civic engagement in localized communities. "Long Beach Rising is thrilled about the opportunity to Place-Make the Vote in Long Beach. We see this as a great way to expand the work we've done to increase civic engagement and voting within groups underrepresented and left out of political processes in our city," said Christine Petit of Building Healthy Communities: Long Beach.

The Place-make the Vote polling sites will be activated by furniture, environmental graphics, entertainment, food and people. These spaces will visually attract residents to participate in the voting process as these polling sites but through their social interactions within these spaces civic engagement can expand beyond the 2016 election cycle. "We are hoping to test some new ideas around civic engagement through place-making and voting during the June Primary Election so we can refine and share them in time for the November General," said Brian Ulaszewski.

`

City Fabrick and their partners have been awarded a total of over $150,000 to execute the Place-make the Vote program. There will multiple Place-make the Vote sites in lower voter turnout precincts in the City Council Districts up for election this year. Sites will be activated during the June Primary Election cycle based on local seats contested in runoff elections while more will be programmed during the November General Election. Each election will include a Place-make the Voter registration drive and vote by mail before Election Day and there will be a rotating series of Place-make the Voter Education events between the elections at each of the four sites. City Fabrick will also develop a how-to resource for other communities to adapt Place-making the Vote where they see the opportunity and need.

From over 4,500 applications, City Fabrick is one 37 innovative projects who won the Knight Cities Challenge. The John S. and James L. Knight Foundation has awarded $5 million to projects in 26 cities across the United States. The City of Long Beach was also a local winner with their "Outdoor Office," a proposal to encourage creativity, collaboration and productivity by programming Harvey Milk Park with flexible seating, Wi-Fi, charging stations and shade. Outdoor Office will be implemented through a collaboration of multiple city departments and Commune Communications, an innovative marketing and design firm in Long Beach. "We are so pleased that amazing talent is being recognized at a national level." Marcelle Epley, President and CEO of the Long Beach Community Foundation, the local affiliate of the Knight Foundation.