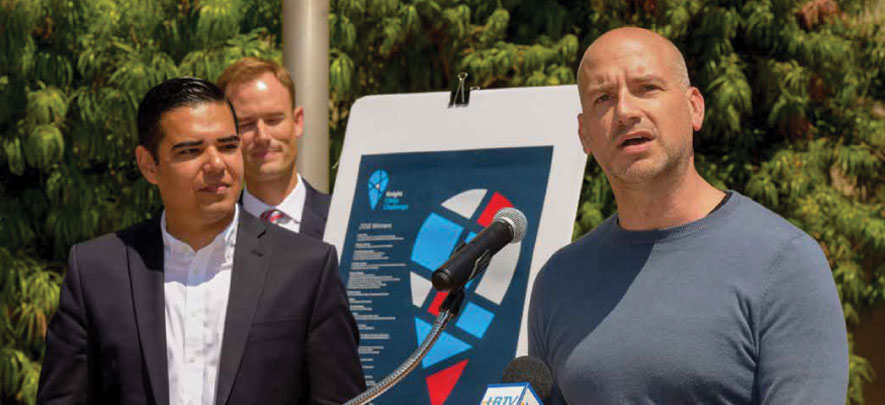 12 Oct

The Knight Cities Challenge

From over 4,500 applications, City Fabrick is one 37 innovative projects who won the 2016 Knight Cities Challenge. The John S. and James L. Knight Foundation has awarded $5 million to projects in 26 cities across the United States. The City of Long Beach was also a local winner with their "Outdoor Office," a proposal to encourage creativity, collaboration and productivity by programming Harvey Milk Park with flexible seating, Wi-Fi, charging stations and shade.

John L. and James S. Knight Foundation supports transformational ideas that promote quality journalism, advance media innovation, engage communities and foster the arts. The foundation believes that democracy thrives when people and communities are informed and engaged. "At its core, the Knight Cities Challenge is about discovering and connecting civic innovators, creative interventionists who inspire positive change," said Alberto Ibargüen, Knight Foundation president. "The winners reflect this goal. Their ideas have the potential to create stronger communities and spaces that spur learning, engagement and growth."

Open to any individual, business, government or nonprofit, the Knight Cities Challenge has just two rules: (1) A submission may come from anywhere, but the project must take place in or benefit one or more of the 26 communities where Knight invests and (2) the idea should focus on one or more of three drivers of city success: Talent: Ideas that help cities attract and keep talented people; Opportunity: Ideas that create economic prospects by breaking down divides and making new connections; Engagement: Ideas that spur connection and civic involvement. You can find the video for your KCC celebrations tomorrow at the following link: https://vimeo.com/162459664

Winning projects are based in 19 of the 26 communities where Knight invests including: Akron, Ohio; Boulder, Colorado; Columbus, Georgia; Charlotte, North Carolina; Detroit, Michigan; Gary, Indiana; Fort Wayne, Indiana; Grand Forks, North Dakota; Lexington, Kentucky; Macon, Georgia; Miami, Florida; Long Beach, California; Milledgeville, Georgia; Palm Beach County, Florida; Philadelphia, Pennsylvania; St. Paul, Minnesota; San Jose, California; State College, Pennsylvania; and Tallahassee, Florida.